SAFE VETERINARY SURGERY FOR SOFT TISSUE, ORTHOPEDIC, OR SPAY & NEUTER PROCEDURES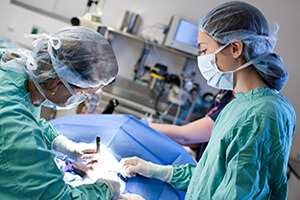 Malta Animal Hospital is dedicated to the highest standards of care for every surgical patient. Whether your pet is having a common surgical procedure, such as spay or neuter, or a more serious or complex operation, you may be confident that patient comfort and safety is our top priority.
VETERINARY SURGERY SERVICES
In our state-of-the-art surgical suite, we perform a variety of soft tissue and orthopedic surgical procedures. When appropriate, laser surgery increases patient comfort, decreases bleeding, and improves recovery times. For advanced techniques in surgery, we offer the services of visiting board-certified veterinary specialists.
LASER SURGERY FOR PET COMFORT AND SAFETY
Laser surgery is the latest option in high-end surgical care. With the laser, a highly focused beam efficiently cuts through and removes tissue while sealing capillaries, small blood vessels, lymphatics, and nerve endings. This provides significant benefits to the patient, including:
Less bleeding
Less pain
Reduced risk of infection
Rapid recovery time
Veterinary surgeons appreciate the laser for its unique capabilities, as it offers clearer visibility at the surgical site, a more focused beam for precision, and the subsequent decrease in surgery time.
ANESTHESIA AND YOUR PET'S SURGERY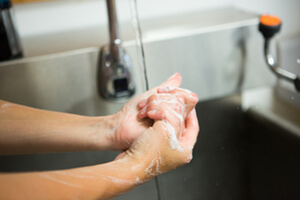 Not all surgical teams are created equal. We make use of recent advances to approach your pet's surgery with a focus on safety and comfort. Since surgery and anesthesia are probably the most important procedures your pet will ever undergo, we put safety and comfort ahead of all else.
Our surgical suite is equipped with anesthesia monitors, patient warming systems, IV fluid pumps, specifically engineered airflow, and surgical-grade illumination. It is staffed by licensed veterinary technicians (LVTs) with years of experience. Sterile techniques are strictly enforced, and the patient's vital signs are closely monitored throughout the procedure.
If your pet is to be anesthetized, advances in anesthesia and surgery have made routine procedures safer with a low rate of complications. To avoid any problems and ensure the best possible surgical experience, our standard of care includes the following:
Pre-operative blood screen — Allows for the use of the correct and safest anesthesia for each individual pet.
Intravenous catheter — Placed prior to anesthesia allows for IV fluids, to maintain hydration and kidney function during anesthesia and faster administration of emergency medicines as needed.
SPAY AND NEUTER SURGERY
Spaying and neutering helps pets live longer, healthier lives. All spay and neuter surgeries include the following:
Pre-anesthetic blood work
Pre-surgery pain medication
IV fluids
The safest gas anesthesia
Continuous monitoring
Pain medication to go home
Spay and neuter surgery offers many benefits to pets. It eliminates or diminishes health problems, territorial and sexual aggression, inappropriate urination, spraying, and other undesirable behavior while preventing pet over-population.
ONLINE RESOURCES