The professionals at Malta Animal Hospital encourage pet wellness care through regular physical examinations–annually for younger patients, and twice a year for senior pets or those with compromised immune systems. Consistent wellness care with a personalized disease prevention program helps avoid or alleviate serious health problems.
PET WELLNESS CARE
We provide comprehensive wellness care, designed to address the unique needs of our patients, such as age, size, and lifestyle issues.
Our wellness plans are tailored to your pet's specific needs regarding vaccinations, parasite prevention, spay and neuter, microchipping, and a dental care program. Vaccination plans are designed to meet your pet's special needs; however, please note that the rabies vaccine is required by state law. We are available in person, by phone, and online to answer questions about pet health care, diet, behavior, and hygiene.
PET VACCINATIONS AND SIDE EFFECTS
Some pets experience mild side effects from vaccinations. These side effects may appear within hours of the vaccination and can last for a day or longer. If your pet experiences discomfort after vaccinations, please contact our hospital for direction and guidance.
Common side effects include mild fever, discomfort or swelling at the vaccination site, and decreased appetite and activity. In addition, sneezing, coughing, runny nose, or other respiratory symptoms may occur within five days of an intranasal vaccine. A small, firm swelling under the skin may develop at the vaccination site and should disappear within a couple weeks. If it persists for more than three weeks, or seems to be getting larger, contact our hospital.
Serious side effects or allergic reactions are less common, but they do occur. These reactions are considered a medical emergency and can be life threatening. Please seek veterinary care immediately if any of these signs develop within hours of a vaccination:
Itchy or bumpy skin, hives
Swelling of the muzzle, face, neck, or eyes
Persistent vomiting or diarrhea
Severe coughing
Difficulty breathing
Collapse
PETDESK FOR HEALTH CARE
We encourage you to use PetDesk to conveniently manage your pet's care. This free app allows you to communicate with us, request appointments or refills, review lab results, print vaccine certificates, provide feedback, and receive health care reminders.
NUTRITIONAL COUNSELING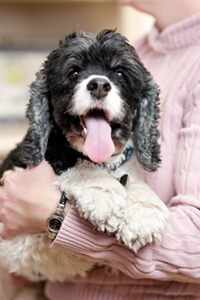 We provide guidance regarding your pet's nutritional needs for each life stage, including dietary requirements for growth, maintenance, weight loss, and performance. If your pet has a medical problem or specific metabolic need, we create an appropriate diet for that condition.
MICROCHIPPING FOR PERMANENT IDENTIFICATION
We offer HomeAgain microchip identification for dogs and cats, a simple and safe procedure. This microchip is a permanent ID, lasting the life of your pet. Microchipping is an affordable process and the cost of registration is included—a small investment for a lifetime of protection!
Watch these videos of a veterinarian microchipping a dog and cat.