Veterinary internal medicine is concerned with the prevention, diagnosis, and treatment of diseases in pets. The internal medicine program at Malta Animal Hospital is highly regarded as one of the strongest in the region, combining the most current science and diagnostic techniques with our highly skilled and compassionate professionals.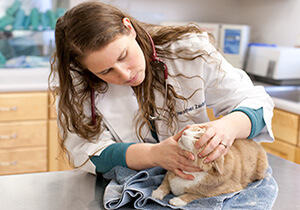 PET HEALTH CARE AND PREVENTIVE MEDICINE
At Malta Animal Hospital, our efforts in internal medicine are threefold:
To prevent diseases in healthy pets;
To accurately diagnose ailing pets; and
To provide treatments that will cure or control disease and minimize suffering.
Preventing disease at every age for every pet is the ultimate goal. When pets do become ill, however, early detection and prompt treatment offer the best chance of a cure. A regular visit to one of our skilled veterinarians is the first line of defense for every type of companion animal.
Veterinary preventive medicine includes a combination of regular wellness care, appropriate lab work and testing for each stage of life, and vaccinations tailored to the specific needs of the pet and his or her owner. In addition, our internal medicine program supports pet owners in learning techniques that help pets stay healthy and happy for a long and vigorous life.
VETERINARY DIAGNOSTIC AND TREATMENT CAPABILITIES
Advanced diagnostic capability and modern hospitalization facilities support our internal medicine program. Our hospital includes comfortable exam rooms, a well-stocked pharmacy, a state-of-the-art surgical suite, and imaging capabilities with digital X-ray and ultrasound. We offer closely supervised intensive care hospitalization, with a dedicated feline ward for cats and indoor boarding kennels with outdoor walking areas for dogs.
Our diagnostic laboratory provides a broad spectrum of options through in-house testing, as well as the use of reference laboratories. We also work closely with local specialty practices when special diagnostic or treatment procedures are required.
Malta Animal Hospital offers the finest in internal medicine for your pets. Treat your animal companion to pet health care beyond comparison—contact us to schedule an appointment.