Malta Animal Hospital takes a proactive approach to managing pet pain, addressing the source of discomfort to minimize or eliminate the pain response. From an unexpected injury to pain from surgery, treatment plans include pain management protocols for every patient. When treating chronic and post-surgical pain, rehabilitation is often included in the recovery process.
DEALING WITH PET PAIN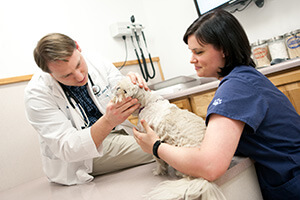 Any injury to tissue can cause pain in pets. This includes inflammation resulting from trauma, surgery, or even chronic illnesses such as osteoarthritis.
Our team is trained to identify in advance any conditions that may result in pain, as well as procedures that can cause discomfort in patients. In this way, we are able to implement measures to prevent the pain response and eliminate any unnecessary suffering.
While pets are very good at hiding their pain, some indicators include the following:
Limping
Guarding areas of the body
Panting or heavy breathing
Trembling
Depressed or unresponsive
Crying or vocalizing
Biting or snapping, especially when touched
Thrashing
Inability to sleep
Increased heart rate and respiration
We recommend any patient displaying signs of pain be evaluated at the hospital. Please contact us at once if you suspect your pet is experiencing any discomfort.
PET PAIN AND SURGERY
Today's options for pain prevention before, during, and after surgery are safe and effective. Our surgical anesthesia program provides a dedicated licensed veterinary technician for each patient, to ensure the most effective approach to pain management. This hands-on personalized technique allows our skilled professionals to make decisions based on knowledge, experience, and compassion while addressing pet pain.
PET REHABILITATION FOR ARTHRITIS, DOG, AND CAT PAIN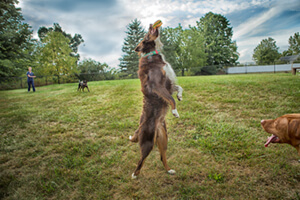 Pet rehabilitation techniques are especially helpful in geriatric and post-surgical patients. To enhance quality of life for your companion animal, age-related issues such as chronic arthritis and degenerative diseases are treated with the least-invasive methods available. Our trained rehabilitation professionals create a custom pain management program for your pet including rehabilitation services, medication, and lifestyle accommodations.
ONLINE RESOURCES