When prescribing medications and nutritional products for your animal companions, Malta Animal Hospital offers the same quality you expect for all the members of your family. Our veterinarians provide your pet's prescriptions complete with a pharmacy print out, containing all pertinent drug information including dosage and side effects.
Clear, accurate, and easy: quality service, because we care!
PET MEDS FROM OUR OWN PHARMACY
For both quality and convenience, we operate a full-service in-house pharmacy for your pet's needs. Our pharmacy maintains a complete inventory of pet pharmaceuticals, vitamins and supplements, shampoos, flea and tick control products, and heartworm preventives to meet the needs of your animal companion.
Malta Animal Hospital will ship orders from our pharmacy on request.
All orders over $39.00 qualify for free shipping.
For the safety of your pet, we recommend purchasing veterinary medications only from our pharmacy and online service. It is difficult to determine the legitimacy of an online pharmaceutical site or pet care operation. Some of these companies participate in risky and unscrupulous practices such as selling pet owners counterfeit products, selling expired drugs, or providing medications without a prescription.
PET NUTRITION FOR LIFE
We also carry a full line of prescription and therapeutic diets, addressing the nutritional needs of healthy animals, those with nutritional or medical conditions, and pets of all age groups. Nutritional needs are addressed at every wellness visit throughout your pet's life. As their needs change, we are here to support you with products that maximize health and long life. We offer competitive pricing and authentic medications with the full support and guarantee of the manufacturer, including participation in rebate programs. Shipping is available as well, free with a minimum order.
ONLINE PETDESK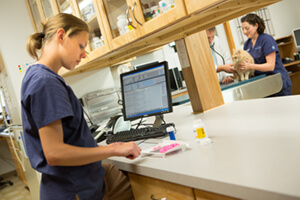 For safe, convenient prescription refills, we offer PetDesk. Manage your pet's health care anywhere, anytime through the PetDesk App. PetDesk is your one-stop location for your pet's health management needs, free of charge . With PetDesk, you can:
Access veterinary records
View lab results
Join our Companion Club Rewards Program
Request appointments
Send us non-urgent messages
Request prescription and food refills
And so much more
Registering for PetDesk is easy. Simply visit your smartphone app store, download the PetDesk and provide your cell phone and email address associated with the account. NOTE: To refill your prescriptions through PetDesk, you must have a PetDesk account.
WHY DO YOU NEED MY EMAIL ADDRESS?
Once you provide us with your email address, we register you for PetDesk. You have the option of receiving your pet's service reminders for vaccinations, exams, and more by email. This also allows us to contact you about practice updates and important health news, such as information about specific diseases. We do not sell our mailing list or disclose your personal information—ever.
WE NOW OFFER TEXT MESSAGE COMMUNICATIONS FOR OUR PET OWNERS. SIMPLY CONTACT OUR OFFICE FOR THIS SERVICE!